ELTON JOHN ROCKET COLLECTIBLE
Purchase Elton John's Rocket Collectible. Once redeemed, the Elton John Rocket means you join the Rocket NFT Club; Elton's web3 community which provides easy-pass access to Elton's Yellow Brick Roadmap.

SCROLL FOR MORE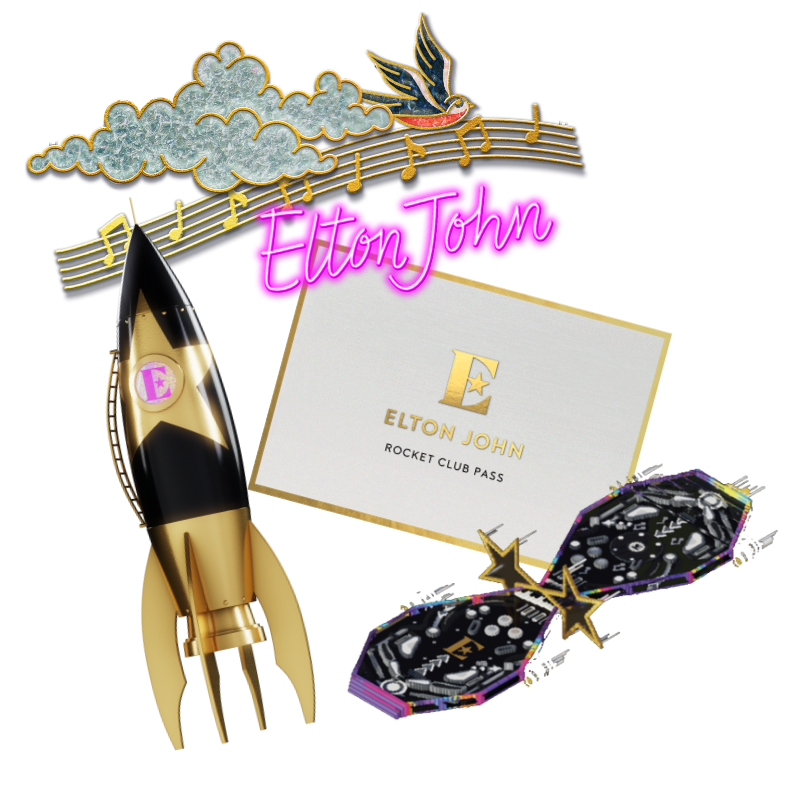 THE OFFICIAL ELTON JOHN YELLOW BRICK ROADMAP
Official access to Elton's Rocket NFT Club for rocket man web3 community experiences
Exclusive access and pre-sale opportunities to future digital collectible drops and collaborations
Surprise & Delight moments with more to come!
*Owners of exclusive Elton John Rocket Pass, Rocket Ship and Hoverboard have access to exclusive NFT Drops
*Cryptocurrency donations are not refundable. No goods, services or airdrops will be offered in exchange for cryptocurrency donations.
ELTON JOHN X JADU HOVERBOARD JADU HOVERBOARD
THE MOST EXPENSIVE NFT HOVERBOARD SALE EVER!
*ALL SALES OF THE ELTON JOHN HOVERBOARD BENEFIT THE ELTON JOHN AIDS FOUNDATION
DONATE TO ELTON JOHN AIDS FOUNDATION
The Elton John AIDS Foundation was established in 1992 and is one of the leading independent AIDS organisations in the world. The Foundation's mission is simple: to be a powerful force in the end to the AIDS epidemic. The Elton John AIDS Foundation is committed to no more discrimination. No more HIV infections. No more AIDS deaths. No matter who or where you are.